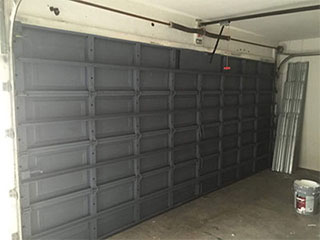 You need your garage door to work day after day without having to worry that it might fail suddenly. Keeping your door in good working order requires regular upkeep, however, and arranging for regular maintenance is key in extending its lifespan.
Professional Diagnostic Services
Over time, the moving parts of your garage door will wear out, become loose, or require lubrication. Our experienced technicians have the knowledge to identify underlying faults within your door system, and we can prevent small issues from developing into larger problems.
By addressing these issues in a timely manner it's possible for homeowners to avoid costly repairs and stressful breakdowns, and therefore we highly recommend investing in ongoing maintenance services.
Scheduled Service Appointments
During a maintenance procedure our engineers will examine mechanical components such as the springs, cables, rollers and pulleys for wear and tear damage. We'll also take a look at the door's electrical systems; the safety sensors, remote control, and the motor itself. In addition, our technicians will check over the door's physical integrity, examining the panels and frame itself for signs of wear.
Keep Your Door Working For as Long as It Can
Garage door maintenance is essential for extending the lifespan of your system - without regular checkups, components will wear out and eventually fail. It's much cheaper and easier to have a professional tighten up loose bolts, lubricate and realign moving parts and identify any components in need of replacement than it is to repair a system that's already failed.
The Best Service for Your Door
Regular maintenance guarantees that your door will continue to work reliably for a long time. Call today to arrange for one of our highly experienced Broken Garage Door Spring Saint Paul technicians to visit your home and ensure that your door is in great working order.
You can also count on us for:
Garage Door Tune Up Services
Opener Sensor Replacement
Broken Garage Door Spring Replacement
Extension Spring Adjustment