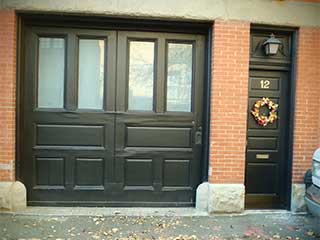 Garage door maintenance is an essential routine task that homeowners should undertake at least once a year, which is why it is a good idea to pick an annual occasion that could remind you to conduct inspections on your system and its various components.
Why Valentine's Day?
As funny as it may seem, our experts suggest that you take advantage of the first major holiday of the year to make sure that your door gets the work that it needs. This way you'll know that your system will work properly all year round. Who knows, maybe you'll even get your significant other to help you with this, and you may just find yourself falling in love with them all over again.
Peace of Mind All Year Round
Since it's such a memorable day, that takes place relatively early in the beginning of the year, you'll be less likely to forget it. The fact that it falls in the month of February, will also ensure that the financial stress of the December season won't get in the way of the cost of minor repairs and upkeep that you may require. But more importantly, conducting maintenance so early in the year will allow you to feel comfortable in knowing that your garage door, its opener, and any other component will be reliable throughout the rest of the year, giving you one less thing to worry about.
Where Maintenance Is Needed Most
Components such as hinges and garage door springs which undergo the most amount of stress during the system's operation are a good place to start. These components are responsible for supporting the frame of your door, and do a great deal in terms of keeping it properly aligned and safe to use. If the financial stress of the festive season has left you a little out of pocket, then conducting maintenance on at least these crucial parts is still a necessity, and can still be affordable.
Getting Your Opener Ready For the Year
Your door's automatic opener is also an area of concern when it comes to your annual upkeep, and for the sake of safety and efficiency, should never be neglected from your annual maintenance routine. An opener is comprised out of a multitude of moving parts which can gradually wear-out the more the system is used until finally, they end up defective. For this reason, it is important to inspect and deal with any possible problems you discover rather than let it get worse.
Keeping Up With Safety
Your door's safety features such as the cables, reverse function and sensors should never be overlooked, and so they are one of the most important areas you should focus on during your Valentine's Day maintenance routine. In order to ensure that those close to you are safe whenever they operate your garage door, get things handled by professional technicians.
Our team at Broken Garage Door Spring Saint Paul are romantics at heart and will be more than happy to help you out.